This year I decided to add yet another reading challenge to my list, because there's no such thing as too many challenges, right?!  Bookish.com created a list of monthly categories intended to help you clean out your TBR pile.  I'm officially at the halfway point, and so far it's been a lot of fun!  I like the relaxed pace, and the tasks are just specific enough to get you thinking but not so much so that you feel the need to do any shoehorning.  Here are my books for the first 6 months: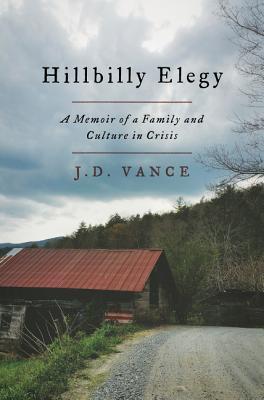 January – Read a book that supports your New Year's resolution.
Hillbilly Elegy: A Memoir of a Family and Culture in Crisis
J.D. Vance
After the horror of our last presidential election, I decided I wanted to make more of an effort to understand how we as a nation arrived at this point.  To that end, I've been building a list of books focusing on regions, cultures, and experiences within the United States that are different from my own.  Hillbilly Elegy was the first step.  It's an interesting memoir – Mamaw is by far the star of the narrative and I'd love to know more about her – but Vance's social analysis was not as well-formed.  He was very fortunate to find himself on a path where his hard work did actually pay off, allowing him to boost himself out of the poverty that plagued his ancestors.  As a result, he can't seem to help repeating that tired trope: the only people stuck in poverty are those who refuse to help themselves.  Poverty is far more complicated than that, and he comes across as condescending and judgmental towards anyone who doesn't finish school or 'settles' for a lifetime of blue collar work.
February – Read a love story.
Heartless
Marissa Meyer
In this engaging prequel to Lewis Carroll's classic stories, Meyer imagines how the decapitation-happy Queen of Hearts came to be the scourge of Wonderland.  This book swept me off my feet – I tore through all 453 pages in a single weekend.  Her vision of Wonderland expands on Carroll's, including the use of familiar nursery rhymes.  It's also shot through with references to Edgar Allan Poe's The Raven, adding a sense of unease and lurking horror.  I really felt for Cath and her struggle with first love and trying to do right by her family's expectations without sacrificing her dreams.  Knowing she ends up a raging, tyrannical monarch only compelled me to read faster so I could find out how she got there.
March – Read a book published the decade you were born.
Ironweed
William Kennedy
I was originally planning on using this book to fulfill a task on a different challenge, but I found a replacement and decided to use it for the TBR instead.  This is not an easy book, and I'm not sure I liked it all that much.  But I do appreciate the literary merit and the tragic intensity of the story.  Francis Phelan is an interesting character, his difficult life and personality flaws make you want to judge him and sympathize with him in equal measure.   Kennedy also captures that hollowed-out feeling of inevitable doom during the Great Depression.  I came away from the book feeling heavy and sad.
April – Read a National Book Award winner.
The Unwinding: An Inner History of the New America
George Packer
The Unwinding is another on my list of books about the state of the U.S.  This one was a solid block of text – no charts, no graphs, no pictures.  The narrative is divided into sections by year, starting in the 1970s.  Packer follows three individuals from various backgrounds throughout the book, and features a notable public figure or event in each section.  Each year is introduced by a single page word collage, collecting headlines, song lyrics, and quotes from public figures and popular media into a hodgepodge of visual sound bites that set the tone for that moment in time.  This was a maddening, eye-opening, and fascinating read.  Packer masterfully weaves each thread together, creating a concerning and frustrating portrait of cultural upheaval.
May – Read a book about mental health.
The Little Book of Hygge: Danish Secrets to Happy Living
Meik Wiking
I probably fudged the category a bit with this one, but it does pertain to mental health.  Hygge is the Danish concept of the sense of well-being you feel when you're in a comfortable, cozy space, often with people you care for and/or delicious food.  I first saw the word on a friend's Instagram post and upon finding several new books about it, I checked out the first one available at my library.  While I wasn't necessarily expecting an analytical opus on the subject, this book was a little fluffier than I'd hoped.  It offered basic guidelines for what is essential to establishing hygge in your home, including recipes and lighting ideas.  Still, it's a nice concept – I definitely feel at peace when snuggling under a blanket by a fire with a snowstorm billowing outside, or reading on a rainy afternoon while drinking a hot cup of tea.
June – Read a book set outside of your home country.
Wolf Winter
Cecilia Eckback
I had high hopes for this book.  The summary on Goodreads hooked me right away – a brutal murder on a creepy mountain in 18th century Lapland?  Awesome.  It was intensely atmospheric, pulling the reader right into a sense of isolation and bitter winter weather.  There were some magical realism elements that added a surreal touch.  Ultimately though, there were too many threads, and by the end it felt like the author wanted to use all of these ideas but couldn't decide which should take precedence.  As a result, the ending felt jumbled and confused.
Save