My reading momentum this year has been intense (for me at least) – I'm up 30 books already, and 12 of those make up the first half of my Read Harder challenge.  There doesn't seem to be any threat of it waning anytime soon either, which has me tentatively aiming to finish Read Harder completely before spring.
It took me awhile to warm up to this batch of challenge tasks, but once I started researching titles to fulfill them, my level of anticipation rose exponentially.  Come New Years Eve, I was chomping at the bit and woke up early on January 1st to read my first two books of the year.  And so far, most of the books have been good or great, with a couple of pleasant surprises as well.  Here are my top three: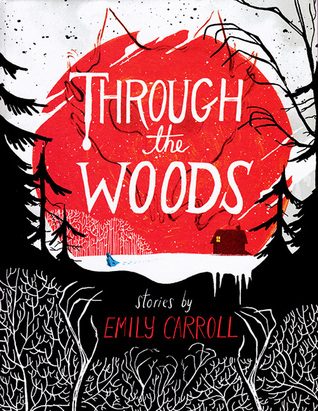 Through the Woods by Emily Carroll – this graphic novel collects five original stories seemingly inspired by classic folktales, with shades of Little Red Riding Hood, Bluebeard, and even a little Lovecraft.  I've thought about this book many times since I first read it and will probably purchase it at some point.  It's eerie, creepy, and fun, and the illustrations suit and set the mood perfectly.
Treasure Island by Robert Louis Stevenson – I chose this for the classic genre fiction task, and my hopes weren't high.  Not that I expected it to be terrible, but sometimes older fiction gets bogged down in the style of the time.  I was more excited about the fact that the audiobook  was narrated by Alfred Molina than I was about the book itself, even knowing it established most of the tropes that define pirates in the pop culture consciousness.  Well shiver me timbers, I freaking LOVED it.  It was exciting and gripping and totally entertaining.  Alfred Molina was excellent as well, clearly having fun with accents and dialects.  This is one I will read again.
True Grit by Charles Portis – This book was another welcome surprise.  I haven't read many westerns, mainly due to a lack of interest (so I guess that makes this a great challenge task for me…).  I picked True Grit after enjoying the recent movie remake with Hailee Steinfeld, and I was sucked in completely from the first page.  Mattie Ross is one of the strongest voices I've ever read in fiction – she's confident and sure and brooks no nonsense from anyone.  The story was engaging and suspenseful, but she's the most impressive part of the book.
Completed Tasks:
1) A book published posthumously – Ariel, Sylvia Plath
3) A classic of genre fiction – Treasure Island, Robert Louis Stevenson
4) A comic written and illustrated by the same person – Through the Woods, Emily Carroll
7) A western – True Grit, Charles Portis
8) A comic written or illustrated by a person of color – Black Panther: World of Wakanda, Roxane Gay et. al
9) A book of colonial/postcolonial literature – Heart of Darkness, Joseph Conrad
10) A romance novel by or about a person of color – Destiny's Captive, Beverly Jenkins
11) A children's classic published before 1980 – The Wonderful Wizard of Oz, L. Frank Baum
15) A one-sitting book – Binti, Nnedi Okorafor
18) A comic that isn't published by Marvel, DC, or Image – Lumberjanes, Vol. 7: A Bird's Eye View, Shannon Watters
19) A book of genre fiction in translation – Penance, Kanae Minato
24) An assigned book you hated – A Separate Peace, John Knowles