Deciding to try to read all 5 books from A Song of Ice and Fire was probably a bit overly ambitious on my part, especially for a single challenge year.  Which means, I did not in fact finish the 2018 PopSugar Reading Challenge.  Oops.
Aside from those 5 plus one other task, the second half of this challenge still led me to some truly amazing books.  Here are three of those: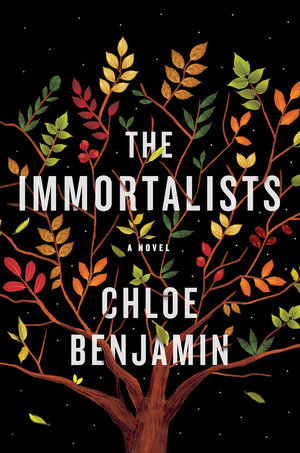 Kindred by Octavia E. Butler – Octavia Butler is a seriously spectacular writer.  This book is simply perfection.  It's gripping, emotional, and effective.  It immediately pulls you in to the story and transcends all of the genres it falls under.  Everyone should read it.
The Immortalists by Chloe Benjamin – This was a lovely and impressively compact family saga.  The characterization is strong – each personality is immediately whole and clear.  The plot progression is pitch perfect, moving along at an engaging pace while still creating a full reading experience.  Haunting and beautiful.
White Rage: The Unspoken Truth of Our Racial Divide by Carol Anderson – White Rage is one of those books that should absolutely be required reading for absolutely everyone.  Carol Anderson provides a detailed outline of racism in the United States that is succinct, accessible, and powerful.
1) A book made into a movie you've already seen – Do Androids Dream of Electric Sheep?, Philip K. Dick
2) True crime – Killers of the Flower Moon: The Osage Murders and the Birth of the FBI, David Grann
3) The next book in a series you started – Eternally Yours, Cate Tiernan
4) A book involving a heist – Invictus, Ryan Graudin
5) Nordic noir – Midnight Sun, Jo Nesbo
6) A novel based on a real person – Margaret the First, Danielle Dutton
7) A book set in a country that fascinates you – House of Names, Colm Toibin
8) A book with the time of day in the title – The River at Night, Erica Ferencik
9) A book about a villain or antihero – Genuine Fraud, E. Lockhart
10) A book about death or grief – The Immortalists, Chloe Benjamin
11) A book with female author using a make pseudonym – The Cuckoo's Calling, Robert Galbraith
12) A book with an LGBTQ protagonist – Look Past, Eric Devine
13) A book that is also a play or musical – The Phantom of the Opera, Gaston Leroux
14) A book by an author of a different ethnicity than you – Such Small Hands, Andres Barba
15) A book about feminism – We Should All be Feminists, Chimamanda Ngozi Adichie
16) A book about mental health – Heart Berries: A Memoir, Terese Marie Mailhot
17) A book you borrowed or that was a gift – How to Drink, Victoria Moore
18) A book by two authors – Obsidio, Amie Kaufman & Jay Kristoff
19) A book about of involving a sport – Into Thin Air : A Personal Account of the Mount Everest Disaster, Jon Krakauer
20) A book by a local author – The Fall, James Preller
21) A book with your favorite color in the title – Red Clocks, Leni Zumas
22) A book with alliteration in the title – A Clash of Kings, George R.R. Martin
23) A book about time travel – Kindred, Octavia E. Butler
24) A book with a weather element in the title – A Storm of Swords, George R.R. Martin
25) A book set at sea – Into the Drowning Deep, Mira Grant
26) A book with an animal in the title – American Panda, Gloria Chao
27) A book set on a different planet – Saga, Vol. 8, Brian K. Vaughan
28) A book with song lyrics in the title – Comfort & Joy, Kristin Hannah
29) A book about or set on Halloween – Hallowe'en Party, Agatha Christie
30) A book with twins – Twelfth Night, William Shakespeare
31) A book mentioned in another book – The Virgin Suicides, Jeffrey Eugenides
32) A book from a celebrity book club – The Power, Naomi Alderman
33) A childhood classic you never read – The Lion, the Witch, and the Wardrobe, C.S. Lewis
34) A book that's published in 2018 – The Cruel Prince, Holly Black
35) A past Goodreads Choice Awards winner – A Dance with Dragons, George R.R. Martin
36) A book set the decade you were born – 1984, George Orwell
37) A book you meant to read in 2017 but didn't get to
38) A book with an ugly cover – Fire and Fury, Michael Wolff
39) A book that involves a bookstore/library – You, Caroline Kepnes
40) Your favorite prompt from a past PopSugar challenge (blue cover) – A Game of Thrones, George R.R. Martin
41) A bestseller from the year you graduated high school – A Feast for Crows, George R.R. Martin
42) A cyberpunk book – Catharsis, Travis Bagwell
43) A book that was being read by a stranger in a public place –
44) A book tied to your ancestry –
45) A book with a fruit or vegetable in the title – Bitter Greens, Kate Forsyth
46) An allegory – The Crucible, Arthur Miller
47) A book by an author with the same first or last name as you – The Scapegoat, Sophia Nikolaidou
48) A microhistory – Empty Mansions: The Mysterious Life of Huguette Clark, Bill Dedman
49) A book about a problem facing society today – White Rage: The Unspoken Truth of Our Racial Divide, Carol Anderson
50) A book recommended by someone else taking the PopSugar challenge – Dear Fahrenheit 451, Annie Spence