June brought with it another round of the Riotgrams photo challenge!  It's always fun to come up with ideas to fulfill the prompts, and this month was no exception.  I did miss out on three of them towards the end of the month due to an awesome family vacation to Disney World 🙂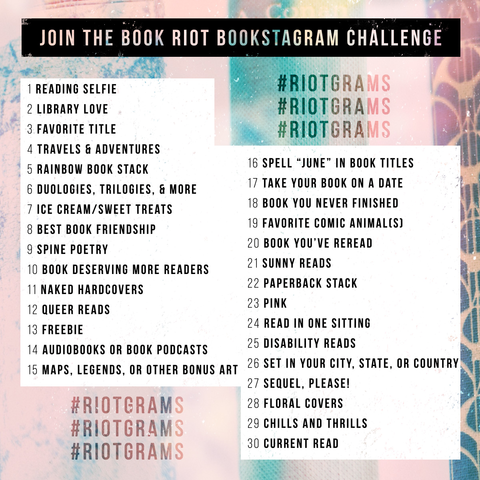 1. Reading selfie – Not thrilled that it's 80 degrees in my apartment, but Jon Krakauer's chilling and chilly experiences on Everest are a good distraction. 
2. Library love – When the director lets you borrow his T. Rex suit but you still have to work the circ desk.
3. Favorite title – I saw these titles and knew I had to read them.
4. Travels & adventures – Nothing too exciting comes out of my kitchen compared to what Anthony Bourdain eats when he travels the world. Bonus author signature!
5. Rainbow book stack
6. Duologies, trilogies, & more – I stumbled across this trilogy of mysteries set in Bath, England, right after actually visiting Bath, which made reading them especially fun.
7. Ice cream/sweet treats – For me salty > sweet, but I do like it when they're combined – like peanut butter and chocolate.
8. Best book friendship – The Lumberjanes are awesome – smart, funny, inclusive, and supportive of each other.
9. Spine poetry
10. Book deserving more readers – Everyone should read Octavia Butler. I hadn't read any of her books until this year, and I can't believe I let myself miss out for so long. She is amazing.
11. Naked hardcovers – Naked hardcovers in technicolor.
12. Queer reads 
13. Freebie – a shelfie!
14. Audiobooks or podcasts – My sister was able to get me a copy of the British version of the first Harry Potter audiobook – Jim Dale is great but Stephen Fry has my heart.
15. Maps, legends, or other bonus art – Finally diving into the books of Westeros.
16. Spell "June" in book titles – J U N E
17. Take your book on a date – Reading a few pages while I eat my not very photogenic lunch at work is as close as I'm getting to a book date this weekend.
18. Book you never finished – I made it about a third of the way through Vanity Fair before I set it down and just never picked it back up. I plan on conquering it eventually.
19. Favorite comic animal(s) – Let's be honest, Lying Cat is the best.
20. Book you've reread – The Southern Vampire Mysteries are easy and comforting. I don't even know how many times I've reread them.
21. Sunny reads – Robin McKinley's vampire book is a fun one, led by a sun-loving heroine named Rae (nickname: Sunshine).
22. Paperback stack – Fat (paperback) stacks.
23. Pink – Julián is a Mermaid by Jessica Love is the sweetest, and it's wonderfully illustrated.
24. Read in one sitting – I inhaled the first awesome Binti book during a single train ride, and I couldn't wait to read the rest of the trilogy (which I finished in one sitting a few weeks ago) .
25. Disability reads – Challenger Deep is an impressive book – it addresses mental illness without judgment or glorification, and it fully immerses you in Caden's struggle. It's tense, disorienting, and gorgeous.
26. Set in your city, state, or country
27. Sequel, please!
28. Floral covers
29. Chills and thrills – This novel is packed with chills and thrills.
30. Current read – Last day of June riotgrams!  My current read is an easy recovery read after some heavy nonfiction.