The Bookish Monthly TBR is the last of the three main challenges I took on this year – my second year in a row with no stragglers and the earliest finish yet: December 18th!  Last year I was reading challenge books up to December 28th, and in 2015 I didn't even complete either challenge (more on that white whale in another post).  I have one book left to meet my Goodreads goal of 150, but a few hours of reading over the holiday weekend will take care of that no problem.  And with any luck, Bookish will release the 2018 TBR list in the next couple of days so I can get that spreadsheet up and running!  Here's what I read for the second half of this year's challenge:
July – Read a book about an overlooked figure in history.
Rise of the Rocket Girls: The Women Who Propelled Us, from Missiles to the Moon to Mars
Nathalia Holt
I enjoyed reading The Girls of Atomic City by Denise Kiernan – a very different perspective on World War II, but a bit disjointed and not totally satisfying – so I was cautiously looking forward to Rocket Girls.  Fortunately, it did not disappoint.  It's engaging and informative, with a sociable tone and accessible information on the technical aspects of rocket building.  It was fascinating to learn about the beginnings of the Jet Propulsion Laboratory, and impressive to see how many barriers the women who worked there faced and ultimately broke through.  These are stories that should be told and contributions that deserve to be recognized.  In this same vein, I plan on reading Margot Lee Shetterly's Hidden Figures soon.
August – Read a collection of essays and short stories. 
Slasher Girls & Monster Boys
April Genevieve Tucholke
This was a fun bunch of spooky stories.  As a whole the collection was fine – easy to read, some nice tension, and a few surprises, but nothing hugely impressive overall.  However, there were three very strong stories that were good enough for me to justify adding a full star to my Goodreads rating: In the Forest Dark and Deep by Carrie Ryan, which offered an extra gruesome version of a Wonderland tea party; Sleepless by Jay Kristoff, wherein Norman Bates uses the internet; and The Girl Without a Face by Marie Lu – you must have done *something* to provoke that ghost into haunting you.  I would consider purchasing a copy of this book just to be able to re-read these stories in particular.
September – Read an entire series.
Rivers of London/Peter Grant, Books 1-6
Ben Aaronovitch
This was a whirlwind of an audiobook marathon: I blasted through all six books in about as many days right down to the wire, finishing the last one on September 29th.  I enjoyed each of them pretty much equally – this series is excellent fun and the audio narrator is fantastic.  The concept of ancient deities claiming guardianship of the various rivers in England combined with London's blend of cultures and history provides a great foundation for something beyond your typical detective story.  A perfect blend of suspense, dry humor, and pop culture references, this series is definitely worth revisiting multiple times.
October – Read a book that scares you.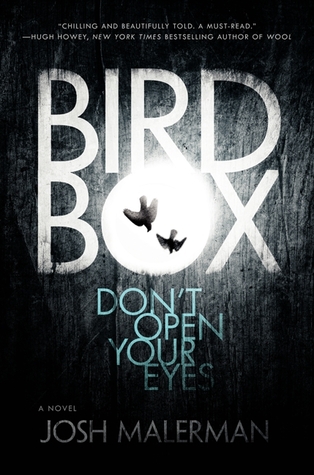 Bird Box
Josh Malerman
Yeah, this book scared me.  It had me crawling right out of my skin.  And I try not to read scary things too soon before bed, but I NEEDED to know what happened next.  And then, I wasn't able to fall asleep because I NEEDED to know how it ended.  So I stayed up way too late on a weeknight for the sake of avoiding disturbing dreams and finished it.  This book was too much of a good time to really analyze it critically – for avid horror readers it may be nothing new, but that doesn't mean it's not a nice, solid contribution to the genre.  It's creepy and tense and stressful and compulsively readable.  Check it out.
November – Read a graphic novel or comic book.
Rat Queens, Volume 4: High Fantasies
Kurtis J. Wiebe
I adore Rat Queens.  The first volume was awesome – what's not to love about a scrappy, snarky, boozy band of lady mercenaries?  The subsequent volumes were still fun, but the Queens deserved better.  I'd heard that the comic was going on an indefinite hiatus, so I was surprised to see Volume 4 pop up in the library catalog.  It was nice catching up the ladies, but overall it felt like a limp attempt at a not totally necessary reboot.  Hopefully the series can find its stride again and return to the glory of volume 1.
December – Read a book about belief.
Zealot: The Life and Times of Jesus of Nazareth
Reza Aslan
I don't practice any religion, and I haven't spent much time studying the Bible, so I can't react to this book from a spiritual or theological perspective.  But most of what I've learned about the Judeo-Christian tradition has been within the context of history as a whole, and from that perspective, this book is compelling.  Aslan takes the mythic figure of Jesus as presented by the Gospels and builds a more complete portrait of the man by describing him relative to the social and political realities of his time.  It's fascinating to see him re-framed as a seditious revolutionary, whose words and actions were (and arguably still are, apparently) considered radical and dangerous to the general order of things.